Advocate
Advancing the Common Good: Creating Opportunities for a Better Life for All
Throughout our history, United Way has done extraordinary work to improve people's lives and build strong communities. With our focus on community impact, United Way has a key role to play in advocating for good public policy. Without community input, our priorities in Education, Income and Health will lose critical government policy and funding support.
Join us and advocate for an Education, Income, Health issue that you are passionate about. Your community needs you to have an impact on public policy decisions. Advocating in your community does not simply mean lobbying on a specific piece of legislation.
You can persuade policymakers to allocate resources to provide effective services and quality programs for low-income individuals and families, increase access to affordable housing and medical care, and improve failing schools.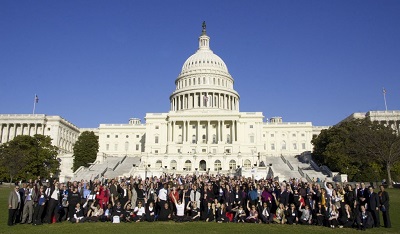 You can inspire hope and create opportunities for a better tomorrow. Here are just a few ways you can advocate.
Register to Vote
One of the easiest ways to affect change in your community is by voting. Whether the issue is local, regional, or national, we urge each person in our community to register to vote and participate in every election. Make your vote count, use it!
Wear the Shirt
When people see you wearing the iconic "Live United" t-shirt they will know you are a champion for our community. Our slogan, "Live United," exemplifies United Way of Eagle River Valley's mission. By working together, living in harmony, helping and supporting one another we aim to create collective impact and build a thriving community in Eagle County. To purchase United Way t-shirts and other accessories, go to the United Way store.
Engage with your community
Host a community conversation with your friends, coworkers or neighbors. Learn about what people say are their aspirations for your community and talk about how you can work together to address challenges.
Raise Awareness About a Cause
Use social media tools to educate your friends and networks about an issue you care about.
Share Your Story: Why Do You Live United?
Let us know how you honor your commitment to Live United, give back and make a difference. You are integral to our work. Let us know why you choose to Live United by posting a video testimonial on YouTube and sending us the link or commenting on our Facebook page.
We want to hear from you.
Champion a Cause. ADVOCATE