About Our United Way
Your United Way of Eagle River Valley was established in 1996 as a critical community convener that mobilizes local businesses, localcharities, community residents, leaders and public officials to create new and expanded opportunities to help our neighbors in need. We work to empower members of our community to achieve their human potential by:
Improving education and reducing the number of school drop-outs.
Helping people get on the road to financial stability.
Promoting healthy lives and reducing risky behaviors.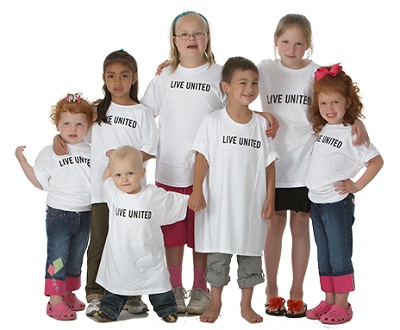 Education, income and health are the building blocks for opportunity - individually and collectively. Education is essential to getting and keeping a job with wage and health benefits that can sustain a family. An income that can cover living expenses today and save for tomorrow builds a family's solid foundation. Good health helps children stay on track at school and helps adults be productive at work. Remove any of these building blocks and the other two topple. Establish and fortify each building block and the foundation for individual and community prosperity is strong.
Our board consists of a group of volunteers with the passion, expertise and commitment to make a difference. We aspire to make a difference by driving collaborative and positive community change with the overall objective being to serve our greatest needs in an extremely effective and efficient way. United Way of Eagle River Valley grants funds to LOCAL nonprofit organizations who have demonstrated success in addressing the most pressing issues of our community while positively impacting forward movement and change.
We seek to leverage our role as a funder of worthwhile charitable agencies and programs to build relationships between organizations rather than to just fund them individually. We will be expanding the scope of our existing, extensive evaluations by seeking opportunities for more inter-agency collaboration to reduce costs, increase effectiveness and to fill gaps in servicing our community needs.
Your grant to our United Way is targeted directly into programs that deliver real results. With just two staff, an all-volunteer board, no offices and some in-kind services donated by local businesses, we are able to keep our administrative costs very low, therefore granting as much raised as possible.
We can't do it alone. We need your help - whether it is as a donor or advocate or volunteer. No gift is too small. Now is the time for all of us to do our part. Our community faces difficult challenges, but we can make a difference. Please give, because together we can inspire hope and create opportunities for a better tomorrow. Please visit unitedwayeagle.org, tell your friends why you donate or even ask your employer for the benefit of payroll deduction as an easy way to give.
LIVE UNITED and see how easy it is to bring hope to those who are in need.
History
1889 United Way Worldwide founded in Denver, Colorado
1996 United Way of Eagle River Valley founded
FAQ
Are you funded by United Way Worldwide? No, we are a local 501(c)3 that raises money for the Eagle River Valley. We share the mission of every United Way and leverage the resources provided by United Way Worldwide.
How much of my donation stays local? 100% Like other local nonprofits, we have some overhead and we pay for normal business expenses to support this local United Way here in the Eagle River Valley.
Do you pay a franchise fee to United Way Worldwide? To save on overhead costs, we pay United Way Worldwide about 2% of our regular annual campaign revenue to receive support from the scale and partnerships United Way Worldwide offers. As a result, our overhead costs are less than the industry average. (Absolutely all (100%) of disaster response campaign revenue stays local (i.e. COVID fund)).
Do you give money to other United Ways? No
2021 990 for United Way of Eagle River Valley