Innovation Grant
The UWERV Innovation grant program was established by the Board of Directors in 2018 to designate resources for unique one-time investments in the most compelling new ideas to further the UWERV's strategic plan and purpose. United Way defines "Innovation" as a novel solution that is more effective, efficient, collaborative, and/or sustainable than current solutions.
Purpose
To improve the health, education, and financial stability of everyone in our region by bringing caring people together to give, volunteer and take action to help people in need and solve our community's toughest challenges.
We are looking for ideas that create value or address specific unmet needs or issues faced by our community members.
Eligibility
Individuals, groups, or 501c3 nonprofits may submit proposals.
Letter of Intent (LOI) Process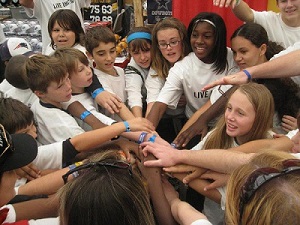 A Letter of Intent (LOI) must be submitted using the online form by February 28. Currently, the LOI submission period is closed.
Application Deadlines
In order to submit a proposal during the application period, applicants must have an approved Letter of Intent (LOI).
Applications will be accepted Mar. 20 – Apr. 20.
Awards will be announced by May 31.

The term of the grant will be one year. A six-month progress review will be required. Grant time extensions will be considered at the discretion of the Board of Directors.
Proposal Preparation
Application must be submitted using the online form which will be made available to selected organizations.
Funding Limits
United Way of Eagle River Valley's Innovation Grant program provides funds up to $20,000 each year to support untested, uncommon, and distinctive ideas and activities that lead to groundbreaking efforts that align with and support the goals and objectives of the UWERV's strategic plan in pursuit of the UWERV's core purpose.
United Way of Eagle River Valley will have the option to be the fiscal agent for the Innovation Grant funds awarded for unincorporated groups and individuals.
Selection Committee
The Board of Directors will review proposals and make recommendations for awarding grants. Each of the proposal requirements will be evaluated with emphasis on alignment with the UWERV strategic plan and the potential innovative contribution of the project to the community.
Reporting
Grant recipients must submit a six month progress report and a final report. The final report will include results/outcomes of the project, lessons learned, obstacles encountered and any proposal for ongoing UWERV activity as a result of the grant work. Grant recipients will be provided the report format when selected.
For questions regarding grant guidelines or the LOI and application process, please contact Rebecca Kanaly (executivedirector@unitedwayeagle.org).